Union Budget 2017-18: Income tax relief, political funding, highlights of Arun Jaitley's fourth budget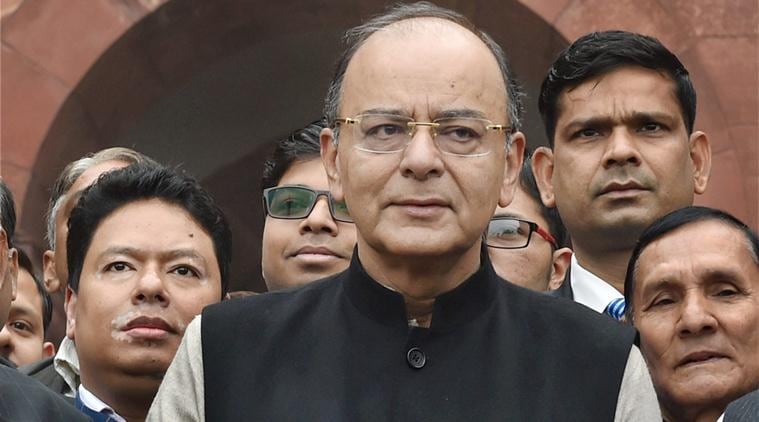 Finance Minister Arun Jaitley stands outside the North Block. PTI Photo Vijay Verma
Finance Minister Arun Jaitley presented the Union Budget 2017-2018 in Lok Sabha on Wednesday. This is the fourth budget by the Narendra Modi government. Jaitley said the demonetisation move by Prime Minister Narendra Modi on November 8, 2016 will not have a lasting impact on the economy. Jaitley also announced that the budget allocation for welfare of women and children under various ministries will be increased to Rs 1,84,632 crore.
Jaitley also said he took immense pride in presenting a joint budget, including the Railway Budget. Railways will focus on passenger safety, capital works and cleanliness, among other issues, Jaitley said. Following the presentation of the Union budget, both Houses of Parliament will adjourn for the day.
WATCH VIDEO | Budget 2017: 5 Things You Need To Understand
Budget 2017: Editors' Take On Key Announcements
Union Budget 2017 highlights:
7:30 pm: Was expecting something spectacular for common man in #Budget2017,however it falls short of expectations on many counts: Odisha CM N Patnaik
7:00 pm: #Budget2017 will strengthen farmers. Dairy processing infrastructure fund to be set up.I thank PM: Agriculture Minister Radha Mohan Singh
6:15 pm: Commenting on the Union Budget 2017-18, Mr. Pankaj Patel, President, FICCI said "This budget would tremendously strengthen the economic muscle of the country. It is directionally correct, fiscally prudent and strengthens the governance fabric of the nation. FICCI compliments the Finance Minister on his vision for the economy which alongside economic growth also ensures economic justice. Growth without inclusion can be a liability for the country."
6:11 pm: Said Prashant Pillai, Country Head, Tax and Accounting at Thomson Reuters: "The past year has seen a lot of initiatives been undertaken targeted at inclusive growth and we are pleased to see that that India as a country has a clear strategic direction for its economy with considerable focus on good governance.  This budget is a step in the right direction.  We see a significant boost to investment in rural areas, fillip to corporations in the MSME sector and continued focus on widening the tax base and creating a more tax compliant economy. It was reassuring to note that the technology platform development for GST is on schedule. We see the next few years as critical for corporations to build strong technology infrastructure to be able to comply with these changes, especially 2017, which will be a transformational year for the nation from a tax regime perspective."
6:04 pm: "The industry was keen to see the representation the rail sector would get in this combined Budget, the first in independent India. The Finance Minister did a good job focusing on key and strategic measures for the railway sector. The increased Budget allocation to railways, focus on safety through the 'Rail Sanraksha Kosh', an enhancement of throughput are very welcome measures. Additional resources will come to the transport sector basis the announced measures of modifying the metro policy, PPP operation of tier two cities and through the 'Multi Model Transport Approach'," said Tilak Raj Seth, Head Mobility, Siemens Limited and CII Chairman, Rail Transportation & Equipment Division.
WATCH VIDEO | Impact Of Budget 2017 On Real Estate Sector
Budget 2017: Impact On Affordable Housing & Real Estate Sector
6:02 pm: "At a time when the Indian economy has been facing headwinds of weak demand (particularly rural), frail private investment and subdued business confidence post demonetisation, the Budget was expected to give a filip to consumption and investment besides signalling stability, continuity and clarity. The Finance Minister has done just that by delivering a fiscally prudent and socially inclusive Budget. Staying away from big-bang measures, the Budget has signaled continuity in economic policy priorities with a strong focus on rural India. Higher allocation to MGNREGA and Pradhan Mantri Gram Sadak Yojana will help boost rural income and in turn will propel consumption in rural-linked sectors such as tractors, two-wheelers and fast moving consumer goods,"said Kaushal Sampat, President & Managing Director – Dun & Bradstreet India.
6:02 pm: Figures given by govt are doubtful. Projections for the full financial year are based on the data of 6 months: Anand Sharma, Congress
5:35 pm: Proposal to constitute integrated Cos. in petroleum market&reduction of basic customs duty on LNG are big steps-Union Min Dharmendra Pradhan
5:35 pm: There is no mention of new trains, new trains have nothing to do with the budget: Railway Minister Suresh Prabhu
5:30 pm: It is lacking in direction & has no proposal for accelerating manufacturing or job creation: Anand Sharma, Congress
4:18 pm: If tax returns are filed both the donor & the done will get exemption on tax in political donations: FM Jaitley
4:18 pm: Many steps in the budget are towards boosting employment, it is not a separate chapter: FM Jaitley #Budget2017
4:17 pm: Electoral bonds to be redeemable only in notified accounts of political parties: FM Jaitley on political funding
3:55 pm: Announced scheme to cleanse political funding and to make the economy cleaner and transparent at large: FM
3:50 pm: Through the budget we wanted honest tax payers to benefit: FM Arun Jaitley #Budget2017
3:45 pm: Govt's motive was to continue the fight against black money hence we are taking steps to make people tax compliant: FM Jaitley
3:36 pm: #Budget2017 recognised benefits of Demonetisation and passed it on to people of India, has given benefits to every section: Power Minister Piyush Goyal
3:27 pm: It is a budget of 'Sabka Sath Sabka Vikas' keeps every sector under consideration: Chhattisgarh CM Raman Singh
3:19 pm: "It's a Budget of 'Sher o shayari', it has nothing for the unemployed youths or the farmers," Rahul Gandhi said.
3:14 pm: It's a very well rounded budget which seeks to address requirements of various segments in economy: Chanda Kochhar, CEO, ICICI.
3:00 pm: "The budget is rhetorical, but in actual creating jobs there is precious little. Railways got a cursory mention," says Congress leader Manish Tewari.
2:47 pm: It's giving highest priority to rural and agricultural sectors; With all the employment potential, sectors expected to see 2 per cent growth-Nitin Gadkari
2:47 pm: It'll bring our economy at no.1 position,it's revolutionary change;This budget will bring transparency in politics-Nitin Gadkari
2:46 pm: This budget is women, poor-friendly budget; PM Modi has fulfilled his promise made in 2014 to bring in transpanecy in politics: Amit Shah
2:44 pm: Railway Budget has lost its identity because it was merged with the main Budget. The big fish has swallowed the small fish: M Kharge, Congress
WATCH VIDEO | Changes in Personal Tax Rates
Budget 2017: Changes in Personal Tax Rates
2.00 pm: A controversial Budget 2017 which is clueless, useless, baseless, missionless and actionless. Heartless No roadmap for the country or the future from a government that has lost all its credibility. Tax payers still have restrictions on withdrawals. Remove all restrictions immediately. And where are the figures for demonetisation? Misleading. Full of jugglery of numbers and hollow words which mean nothing, says Mamata Banerjee
1.37 pm: The Finance Minister has presented an 'Uttam' Budget, devoted to strengthening the hands of the poor, says PM Modi, adding that it is an important link between all the steps taken in the last two and a half years and the development that will follow in the future.
Prime Minister Narendra Modi also said that the merger of the Railway Budget with the general budget will give an impetus to the transport sector's growth. "aim of the Government is to double the income of farmers."
1. 33 pmConsider it a mixed budget. Industry hoped for a lot more for promotion of investment but I think Finance Minister did whatever was possible: DS Rawat,General Secretary ASSOCHAM
1. 30 pm: It's a historic and important budget which will have a long term impact: Nitin Gadkari
1.25 pm: What is the need to present the Budget every year? Were all announcements of last year's budget fulfilled?: Uddhav Thackeray,Shiv Sena
1.24 pm: Former RBI governor C Rangarajan describes #Budget2017 as 'a fairly routine' Budget
1.23 pm: Path breaking budget, a new era has begun, says Railways Minister Suresh Prabhu
1.22 pm: The budget numbers don't seem to add up, as there is huge expansion on Govt spending on schemes. The budget is rhetorical, but in actually creating jobs there is precious little. Railways got a cursory mention: Manish Tewari, Congress
1.21 pm: Reducing cash limit for political funding from Rs 20K to Rs 2K is meaningless. Because there is no limit in number of persons, says Yogendra Yadav of Swarajaya Abhiyan
1.20 pm: Rail safety record of this govt very bad. Did FM say anything? Prime Minister had spoken about bullet train. Has it come? Rahul Gandhi.
1.19 pm: Stock gains widen; Sensex climbs over 347 points, regains 28,000-mark, Nifty surges 92 pts on Budget proposals.
1.17 pm: MSMEs would be encouraged to come into the formal sector with #Budget2017 announcement, says Pankaj Patel, President, FICCI
1.15 pm: Devendra Fadnavis – Job intensive housing sector gets a boost and will provide houses for poor and middle class, generating more employment. The pathbreaking income tax reforms and slashing slab from 10% to 5% will encourage tax compliance.
1.10 pm: Govt wanted to make an impact with budget before polls. But there was no impact. Should have announced something big for farmers. Expected fireworks (post demonetisation) but turned out to be nothing. Didn't specify where the jobs would come from. Sher o shayari ka budget hai, kisaano ke liye kuch nahi kia,yuvaon ke liye kuch nahi kiya: Rahul Gandhi
12. 55 pm: Arun Jaitley introduces Finance Bill in Lok Sabha. House stands adjourned. Thank you for following our live blog. Get all our Budget analysis copies on IndianExpress.com
12. 55 pm: Arun Jaitley concludes his budget presentation
12. 52 pm: One page tax filing form for taxable income under Rs 5 lakh
12. 51 pm: Those individuals in the tax bracket of Rs 50 lakh will stand to benefit from a tax rebate of Rs 12,500.
12. 50 pm: Jaitley reduces existing rate of taxation for individuals with income between 2.5 lakh to 5 lakh to 5% instead of 10%; Surcharge of 10% for those whose annual income is Rs 50 lakh to 1 crore; Surcharge on Rs 1 crore or more remains unchanged.
12. 47 pm: Govt considering option to amend Negotiable Instruments Act to ensure that holders of dishonoured cheques get payment
12. 45 pm: What do the markets look like right now? BSE Sensex at 27,656.70; Nifty at 8,548.85
12. 44 pm: Political funding reforms:
Max amount political party can receive in cash donation will be Rs 2000 from any one source
Political parties will be entitled to receive donations by cheque or digital mode
As an additional step, an amendment is being proposed to the Reserve Bank of India Act to enable the issuance of electoral bonds in accordance with a scheme that the Government of India would frame in this regard. Under this scheme, a donor could purchase bonds from authorised banks against cheque and digital payments only. They shall be redeemable only in the designated account of a
registered political party. These bonds will be redeemable within the prescribed time limit from issuance of bond.
12. 42 pm: A proposal to receive all government receipts beyond a certain threshold through e-modes under consideration
12. 41 pm: No cash transactions above Rs 3 lakh, announces Arun Jaitley
12. 40 pm:  We are committed to make our taxation rate reasonable, our tax administration more fair and expand the tax base of the country
12. 39 pm: Basic customs duty on LNG to be reduced from 5% to 2.5%, announces Arun Jaitley
12. 37 pm: Tax rate for companies with an annual turnover up to 50 crores to be reduced to 25%, to strengthen MSME sector
12. 36 pm: The net tax revenue grew by 17% in 2015-16, says Jaitley
12. 34 pm: Deposits between Rs 2-80 lakh made in 1.09 cr accounts post demonetisation, says Jaitley
12. 33 pm: Of 76 lakh individuals who reported income of over Rs 5 lakh, 56 lakh are salaried, says Jaitley
12.30 pm: Due to demonetisation advance tax on personal income tax increased by 34.8%
12. 30 pm: The rate of growth in advance tax in personal income tax domains has increased by 34.81%
12. 29 pm: Coastal roads of 2,000 kms to accelerate development of Coastal Economic Zones
12. 28 pm: 3.7 crore individuals filed tax returns, 99 lakh of them below taxable limit. Number of people with more than 50 lakh income is 1.26 lakh, says Jaitley
12.26 pm: Predominance of cash in our economy makes it easy for people to avoid taxes, we are largely a tax non compliance society, when too many people evade taxes burden falls on those who are honest, says Arun Jaitley.
12. 23 pm: Total resources being transferred to the states & union territories with legislature is Rs 4.11 lakh crore. Budget allocation for highways stepped up to Rs 64,000 crore in FY18 from Rs 57,676 crore. Allocation for national highways stepped up to Rs 64,000 cr from Rs 57,676 cr. Fiscal Deficit target for 2017-18 is 3.2%.
12. 22 pm: Defence expenditure excluding pension at Rs 2.74 lakh crore, says FM Arun Jaitley
12. 21 pm: The total expenditure of budget 2017-18 has been placed at Rs 21.47 lakh crore, says  Arun Jaitley
12. 20 pm: Good news for those who have to travel long distances for obtaining a passport. Arun Jaitley has announced that Head Post Offices will now be used as the front office for passport services.
12. 19 pm: Forex reserves to offer a cover for 12 months of imports, announces Arun Jaitley

12. 18 pm: New law to confiscate properties/assets of economic offenders fleeing country
12. 18 pm: Select airports in tier-II cities to be taken up for operations, development on PPP mode
12. 17 pm:  Chandigarh and eight districts of Haryana have been declared Kerosene free

12. 15 pm: Railway tariffs to be fixed on the basis of cost, social obligation and competition; Railway related state-run companies like Ircon, IRCTC to be listed on stock exchanges, says Arun Jaitley
12. 13 pm: 125 lakh people adopted the BHIM app so far; merchant version of Aadhaar-enabled payment will be launched shortly for those without debit cards, mobile phones. Govt will launch two new schemes to promote the use of BHIM app.
12. 12 pm: Priority will be given to tribal, Dalit, women to setup greenfield enterprises, says Arun Jaitley
12. 11 pm: Action plan to eliminate Kala Azar and Filariasis by 2017, Leprosy by 2018, Measles by 2020 and Tuberculosis by 2025
12. 10 pm: Allocation for SCs increased from Rs 38,833 cr to Rs 52,393 cr, a rise of 35 per cent, Jaitley says.
12. 09 pm: Transport sector allocated Rs 2.41 lakh crore and Bharat Net Project allocated Rs 10,000 crore
12. 06 pm: The Foreign Investment Promotion Board has been abolished, Jaitley announced, adding that further liberalisation in the FDI policy would be taken in the next few days.
12.00 pm: Total investment for infrastructure in budget 2017 stands at a record Rs 3,96,135 cr, says Arun Jaitley.
11. 59 am: Railways will integrate end to end transport solutions for selected commodities through partnership. By 2019, all coaches of Indian Railways will be fitted with bio-toilets.
11. 57 am: At least 25 stations expected to be awarded during 2017-18; 500 stations will be made differently abled-friendly by providing lifts and escalators
11. 56 am: A new metro rail policy will be announced, this will open up new jobs for our youth: FM Jaitley
11.55 am: Good news for all those who book tickets on IRCTC. You will no longer have to pay service charge, announces Jaitley.
11. 54 am: Rs 1.3 lakh crore has been allotted for solar power, disabled friendly stations. Rail safety fund with a corpus of Rs 100,000 crore to be created over a period of 5 years. Jaitley announces Rs 55000 crore for Railways in Budget 2017. Capital and development expenditure pegged at Rs 1.31 lakh cr for railways in 2017-18 from Budget.
11. 53 am: Focus is on swachch railways, says Jaitley. Steps will be taken to launch dedicated trains for pilgrimage and tourism, he says.
11. 52 am: Jaitley also announced the restructuring of University Grants Commission.
11. 49 am: On health, the government proposes to eliminate tuberculosis by 2025.  Two new AIIMS Hospitals to be set up in Jharkhand and Gujarat
11. 49 am: Budget allocation for welfare of women and children under various ministries increased to Rs 1,84,632 cr.
11.48 am: The government is looking to complete 1,00,00,000 houses by 2019 for houseless and those living in kaccha houses. Open defecation free villages are now being given priority for piped water supply.
11. 47 am: SANKALP – 4000 crores allotted to train for market oriented training. At least 3.5 crore youth will be provided market-relevant training under Sankalp programme
11. 46 am: For youth, proposed to introduce a system of measuring annual learning; Science to be given focus; Quality education will energize our youth. Skill centres will be set up across the country to help youth seeking opportunities outside the country
11. 45 am: 100% village electrification will be achieved by May 1,2018
11. 43 am: Minilabs by qualified local entrepreneurs to be set up for soil testing in all 648 krishivigyan kendras in the country
11. 42 am: Allocation for Pradhan Mantri Awaaz Yojana up from 15,000 cr to 23,000 cr
To get the latest budget updates in Marathi, click here
11. 40 am: Sanitation in rural areas has gone up from 42% in October 2014 (launch of Swachh Bharat) to 60% now.
11.37 am: PMGSY roads work accelerated to 133 km roads/day in 2016-17 as against 73km/day during 2011-14, says Arun Jaitley
11. 35 am: MGNREGA should create productive asets to improve farm productivity, incomes. MNREGA allocation increased. Highest ever allocation for MNREGA at Rs 48,000 crore. Participation of women in MGNREGA up to 55%.
11. 30 am: We will support Nabard for 63,000 functional PACs. Done in 3 years at an estimated cost of Rs 1,900 cr.  Issurance of soil health cards have gathered momentum.  Fasal Bima Yojana – 40% cropped area to be covered in 2017-18, 50% in 2018-19. A dedicated fund worth Rs 5,000 crore to be set up for micro-irrigation under Nabard
11. 26 am: With better monsoon, agriculture is expected to grow at 4.1%. Target for agricultural credit for 2017-18 is set at ten lakh crore, announces Arun Jaitley
11. 24 am: "We are aware we need to do more for our people, our agenda is transform, energise and clean India, that is 'tech India'"
11. 25 am: Surplus liquidity in banking system created by demonetisation will lower borrowing cost and increase access to credit.
11. 23 am: "My aim while preparing the budget this year has been to spend more in rural areas, infrastructure and poverty alleviation and yet maintain fiscal prudence." We have done away with planned and non planned allocation of resources to states, Jaitley says.
11. 22 am: "Demonetisation to create a new normal for a bigger, cleaner GDP; slowdown, if any, will be only transient. Effects of demonetisation will not spill over to the next year. Demonetisation is a bold and decisive measure, for many decades tax evasion was a way of life for many. I am reminded of what our father of the nation Mahatma Gandhi said 'a right cause never fails'."
11. 21 am: India's Current Account Deficit decreased frm about 1% of GDP last yr to 0.3% of GDP in 1st half of 2016-17. Growth in a number of emerging economies is expected to recover in 2017. India remains a bright spot in global economy, we are seen as an engine of global growth.
11. 18 am: "CPI inflation is expected to remain within RBI's mandated range of 2 to 6 percent. International Monetary Fund estimates that the world GDP will grow by 3.1% in 2016 and 3.4% in 2017."
11. 15 am: "FII has increased from Rs 1.07 lakh crore to Rs 1.45 lakh crore. India has become the sixth largest manufacturing country in the world. Government has ensured fiscal consolidation without cutting back on public investments."
11. 14 am:  "Expectations included burning issues like inflation and price rise, issue of corruption and crony capitalism. Our focus will be on energising youth to reap benefits of growth and employment. Growth in a number of emerging economies is expected to recover in 2017."
11. 12 am: "From favouritism to objectivity in decision making, from an informal to a formal economy, inflation in double figures has been controlled, we have launched a massive war against black money… The government is now seen as a trusted custodian of public money,I express gratitude to people for their strong support. Our Govt. was elected amidst huge expectations of people, the underlying theme of expectations being good governance."
11.10 am: "Madam Speaker, on this auspicious day of vasant panchami I rise to present the union budget 2017-18," Arun Jaitley said, as he stood to present the budget.
11.07 am: Kharge says Ahamed is a very senior leader who has been a part of legislative affairs for over 40 years. "Budget can be postponed today and presented tomorrow. He was on his duty. He collapsed in Parliament and was taken to the hospital," Kharge said, but Mahajan refused to budge saying the budget will be presented.
11.04 am: Mahajan says she would have adjourned the House for the day but today's sitting has been specifically fixed by the President and it's a constitutional obligation. "The House may go ahead with the presentation of the Union budget 2017-18. The House may not sit tomorrow as a mark of respect for the deceased member."
11.02 am: Speaker Sumitra Mahajan begins the session announcing the passing away of MP E Ahamed. She highlighted his career as a member of Parliament. "We deeply mourn the death of our colleague," Mahajan said. The House stood in silence as a mark of respect.
11. 00 am: Lok Sabha has convened and Arun Jaitley is set to present the Union Budget 2017-18.
10. 57 am: More budget expectations here – We expect reduction in corporate tax and simplifying the tax system, says Dr. Naushad Dirbes; Expect benefits for exports to boost Make In India from  Budget 2017, says Piruz Khambatta.
10. 55 am: Union Minister Venkaiah Naidu has also expressed his views on whether the budget should be presented today. "Budget has a sanctity, we are already in the 11th hour. There should be no controversy over it. It's a constitutional obligation, Naidu said.
10. 50 am: Now that we have a confirmation from the Speaker, let's look at some of the expectations from Arun Jaitley's budget. Chandrajit Banerjee of CII is of the opinion that taxes – both direct & indirect and asset restructuring are some of the important expectations from Arun Jaitley's budget. Anshuman Magazine say Budget 2017 is only the first step. More needs to be done afterwards in the real estate sector.
10.45 am:  "We are saddened at the demise of MP E Ahamed, but the Budget will be presented today itself. We have to keep in mind that budget is a constitutional obligation, it will have to be presented," Mahajan told reporters outside Parliament House.
10. 40 am: Lok Sabha Speaker Sumitra Mahajan has confirmed that the Union budget will be presented today. News agency ANI quotes her as saying that a formal announcement will be made shorty.
10. 38 am: Former prime minister HD Deve Gowda has also expressed that the budget should be postponed. "Postponement of budget will be no big deal, it's not as if secrecy will break," he said.
If you want to get Budget 2017 updates in Malayalam, click here. For Hindi updates, click here
10.35 am: #BudgetTrivia – The budget docket contains sixteen documents including the speech by the Union Finance Minister.
10.32 am: A quick meeting of the Union Cabinet has begun in Parliament House. Finance Minister Arun Jaitley will share details of the budget with his cabinet colleagues before heading to Lok Sabha where he will present the budget.
10.28 am: Constitutional experts have shared their view on whether the Budget should be postponed. Subhash Kashyap tells news agency ANI that it is neither possible nor correct to postpone the budget once the documents have arrived in Parliament House.
10.25 am: President Pranab Mukherjee's office, too, took to Twitter to share images of Finance Minister Arun Jaitley and officials of the Finance Ministry during their customary visit to Rashtrapati Bhavan. The Finance Minister briefs the President on the government's initiatives in the budget before he presents it in Parliament.
FM Arun Jaitley & his team called on #PresidentMukherjee this morning for the customary briefing on the Budget before presentation
10.22 am: In an indication that the Budget will be presented today, Finance Minister Arun Jaitley took to Twitter saying "Watch me LIVE"
10.14 am: And while Finance Minister Arun Jaitley is still an hour away from presenting his Budget, the Congress Party has already begun its social media campaign, targetting the government for what it says is its failure in welfare schemes.
Modi ji thinks Jan Dhan Yojna makes him a great Hero.
But, sadly the amount deposited in 67% bank a/cs is Zero.
10.10 am: Lok Sabha Speaker Sumitra Mahajan has left for Parliament. She had visited the family of MP E Ahamed who passed away early this morning. She is expected to make an announcement on whether the Budget will be postponed for tomorrow or not.
10.07 am: The Congress party appears to have a differing view. Leader of Congress Party in Lok Sabha Mallikarjun Kharge has said that the budget should be postponed. "In our opinion,including JDU leaders and former PM Deve Gowda, the budget should be postponed". "Its not March 31, there is a lot of time to present budget. Govt can postpone it," Kharge said.
10.02 am: Government sources say there has been a precedent where a sitting Member of Parliament passed away and the Budget was still presented. In 1954 MP Paul Jujhar and in 1974 MB Rana MoS Industry had passed away.
9.58 am: The Union Cabinet will hold a quick meeting now, before Finance Minister Arun Jaitley presents the budget in Parliament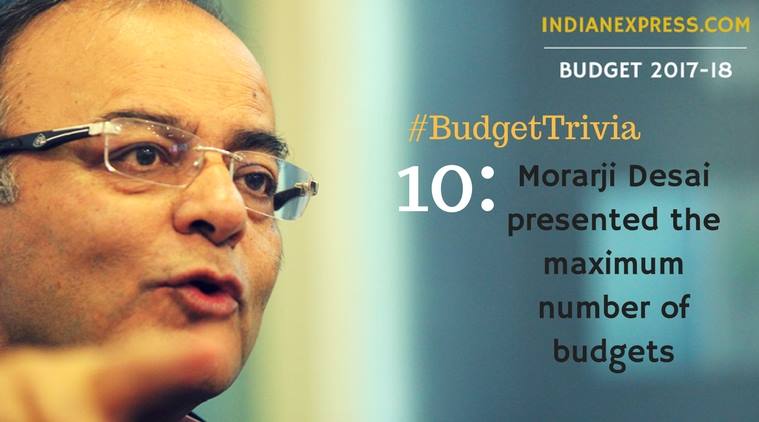 9.50 am: Lok Sabha Speaker Sumitra Mahajan will visit Member of Parliament E Ahamed's residence at 10 am today. The MP passed away early this morning. Mahajan will announce her decision on whether the budget will be presented today or postoned till Thursday.
9.47 am: Finance Minister Arun Jaitley has arrived at Parliament House. He had earlier called on President Pranab Mukherjee in a customary visit. He is likely to present the budget at 11 am today.
9.40 am: Will the budget be postponed till February 2? A decision will be taken at 10 am by Speaker Sumitra Mahajan. "Due to unfortunate passing away of a sitting MP, Speaker will decide if house will be adjourned," says Santosh Gangwar,MoS Finance. Sources have told ANI that the government had an all-party meeting and a consensus was arrived at that the budget be presented today itself. "Budget will be presented, obituary may happen before or after it, government has spoken to all parties and arrived at consensus," news agency ANI reported.
9.30 am: Budget trivia – Until 1999, the Union budget used to be presented at 5 pm in the evening. It was Finance Minister Yashwant Sinha in the Vajpayee government that had the honour of ending the British Raj tradition. Here is an excerpt from his Budget introduction:
"For the first time after Independence with the enthusiastic support of all political parties in Parliament, it has been possible for me to discard the long standing tradition of British Raj of presenting the budget at 5 PM. A new beginning is being made today as I present the last Budget of 1900's."
9.20 am: Finance Minister Arun Jaitley has left North Block for Rashtrapati Bhavan. He will meet with President Pranab Mukherjee ahead of its presentation in Parliament.
9.15 am: Copies of the Budget have arrived outside Parliament complex. It will now go through a round of security checks including those by a K-9 police squad.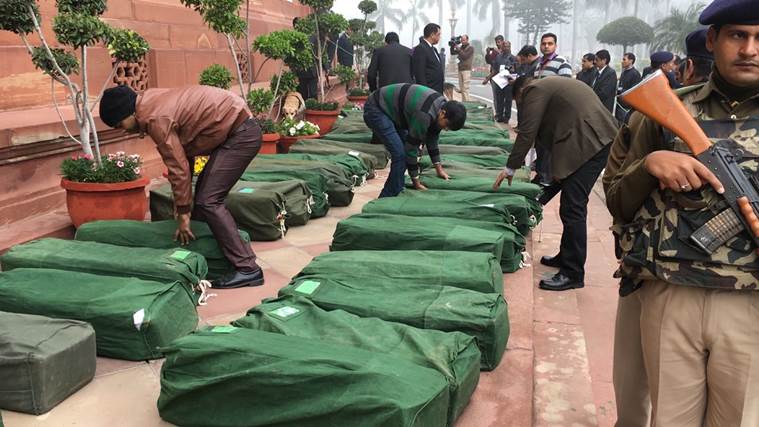 Security personnel check copies of the Budget stacked outside Parliament House. Express Photo
9.05 am: If you're keen to know what Finance Minister Arun Jaitley presented in his last budget, we've got it for you in a simplified format. Click here to read it.
8.50 am: Finance Minister Arun Jaitley arrives at Finance Ministry, North Block. He will meet with officials of the ministry before heading to President Pranab Mukherjee's residence and then to Parliament,  post 10 am, where he will present the Union Budget.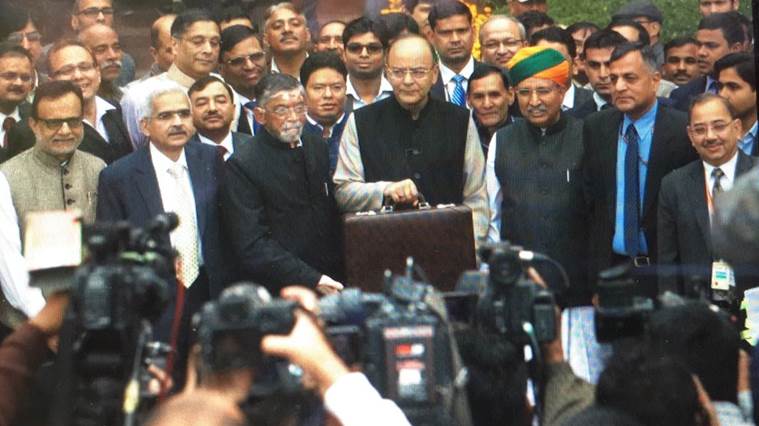 Finance Minister Arun Jaitley with officials of the Ministry of Finance, Government of India outside North Block, New Delhi. Express Photo
On Monday, Finance Minister Arun Jaitley presented the Economic Survey, informing Parliament that in the current year or 2016-17, the Survey expects the economy to grow 6.5-6.75 per cent, with demonetisation lopping off 0.25-0.5 percentage points from a baseline growth of 7 per cent. You can read more about it here. For our full coverage of Budget 2017-2018, please click here.
The two Houses will have a month-long recess from February 10 to March 8 to enable the Standing Committees to consider the Demands for Grants of Ministries and Departments and prepare their reports. There was a demand by Opposition parties that the Budget be rescheduled post the elections to five state assemblies but the Supreme Court dismissed the plea and the Election Commission allowed the budget to be presented with a rider that no sops be announced for states that are going to polls. These are Uttar Pradesh, Uttarakhand, Punjab, Goa and Manipur.